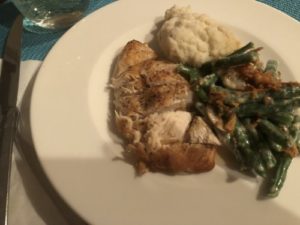 As sent: *
Hackability: ***
This meal is dreadful.  It is so bad, it is like eating dread.  If you made this meal at home one night on your own, you would say, you know, maybe I should try those new popular meal kits, because they would have to be better meals than this one.  This chicken dinner is what meal kits are supposed to save you from.
Tasting: The chicken is dry and flavorless.  The green bean casserole is that thing that everyone eats on Thanksgiving, but no other day.  Except this one uses fresh mushrooms, green beans, cream, and those weird pre-cooked onions that are one of two things that company French's makes.  The mash potatoes come pre-made, so you just heat them up.  They don't taste very good, and like the old joke, there is so little of it.  This dinner is like a blue plate special in a really bad diner on a lonely road that nobody uses since they put in the new highway on the other side of town.
Cooking: If you don't know Gobble, their meal kits come half prepared, so you have less chopping and cooking to do.  Here you start with chicken breasts, which were supposed to be skin-on, although they sent me ones with the skin removed.  (Had there been skin on, I don't think they would have been so dry.)  They say to pre-heat the oven to 450 degrees (too hot), and then to put the chicken breasts into a pan with a little oil.  Sear one side, flip, then put the whole pan into the very hot oven to cremate for 9 minutes in order to be sure all flavor and juice is completely removed from the end product.
Meanwhile, slice the mushrooms and green beans, then sauté those in a pan for two minutes.  They send some pre-fab "onion confit," a sort of onion jam that goes into the pan, then pour in an entire cup of whipping cream, and half of the small packet of French's fried onions they send (which they call shallots).  Let that bubble while you reheat the pre-mashed potatoes in the microwave.
Serve the chicken just like that, baked chicken with no sauce, next to the mashed potatoes, and the green bean "casserole" sprinkled with more of those pre-fried onions. They call this "a homestyle dinner the entire family will love."  Fail.
Hacking:  For some reason, I want to make these ingredients into a chicken chowder.
Clean and slice the mushrooms.  For my taste, I probably wouldn't use the green beans in this recipe, but you can if you want.  If you have any celery, chop one stalk into pieces.  You can also use carrot chunks if you want to.  If the chicken has skin on, remove it, then cut the chicken into bite sized cubes.
In a soup pot, melt two tablespoons of butter, and add the mushrooms, and the carrots or celery if you are using those.  Remove to a plate when cooked, and add the chicken, a pinch of salt and some white pepper.  Still fry until the chicken is cooked and has some color.  Add the confit onions that come with the meal kit, then add the cooked vegetables back in and give it a few stirs.
Add 3 1/2 cups of chicken broth, or water, or water with two bouillon cubes.  Let this simmer to cook the vegetables and blend the flavors.  When the vegetables are done, thicken the soup by adding in the mashed potatoes.  Taste, and add salt or pepper, then add ½ cup of cream.  (Don't boil the soup again after the cream is added.)
Serve in a soup bowl, garnished with the fried onions, and freshly ground black pepper.