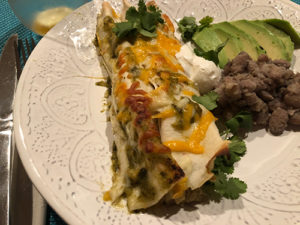 As sent: *
Hackability: **
This is one of the worst things I have ever tried to eat.  Seriously, it is disgusting.  Run, don't walk, away from this horrible excuse for food.
Tasting:  It tastes like dry chicken in green gunge wrapped in failure.  I don't know a lot about salsa verde, but I don't think it should taste like garbage.  The beans are so mushy and disintegrated that they are just like eating embarrassment on your plate.  On the bright side, there is some fresh avocado, though.
Honestly, I took a couple of bites, and put it straight down the disposer.  It made me unhappy to do that, but it was Just. So. Bad.  There were no redeeming quality to this dish.
Cooking:
Gobble send everything ready to assemble and cook, so that it all seems so easy.
Start by mixing the pre-fab green gunge, known as the "salsa verde," with some shredded cheese, then chuck in the pre-cooked shredded chicken.  Put this horrible mixture into tortillas and layer them into a pan, then put more green gunge on top of the tortillas and top with cheese.  Back this for 10 minutes in a super hot oven, and "dinner" is served.  Microwave the pre-cooked disintegrated beans, and garnish with a sliced avocado.  Good luck.
Hacking:
The best hack I can give for this dish is to not buy it in the first place.
But, if it does find its way into your house, the thing that is crucial is to get some actual flavor into that horrible green gunge.  It comes pre-fab, so it is a matter of adding in.  Let what they send stand in for the tomatillos.
In a food processor, put ½ an onion, roughly chopped, 3 cloves of fresh garlic, a generous handful of fresh cilantro, 1 teaspoon of oregano, 1 teaspoon of cumin, 2 fresh jalapeno peppers, and salt and white pepper.  Add 2/3 cup of the prefab green gunge, and whiz until smooth.  Taste and correct seasoning.
Meanwhile, make a béchamel.  Put 1 tablespoon of butter into a saucepan and let it melt.  Then add 1 tablespoon of plain flour, and let that cook for a minute until it is bubbly.  Add 1 cup of milk, whisking as you add it and continuing to whisk as it cooks until it is thickened.  Remove from heat, and add ½ of the shredded cheese that comes in the package.
Into each tortilla, place some chicken and some green salsa, roll this up and place seam side down in a greased casserole.  Then all the tortillas are filled and lined up, top them with the cheese sauce.  Then sprinkle the remaining half of the cheese over the top.  Put this into the hot oven, but instead of putting it in at 450 for 10 minutes, put it in at 350 for 20 minutes.
Now, what to do with god awful beans?
In a skillet, heat a little oil and add some minced garlic.  Then stir in the beans, and add 1 teaspoon of cumin, 1 teaspoon of chili powder, ½ cup of chicken broth or water, and some salt and pepper.  Let this simmer on very low heat, and the liquid should evaporate.  When ready to serve, use a potato masher to smush it up into a thick paste.
Serve the enchiladas with the refried beans, and garnish with the avocado and sour cream.
Or just get take out Tex-Mex to begin with.  This one is hardly worth hacking.