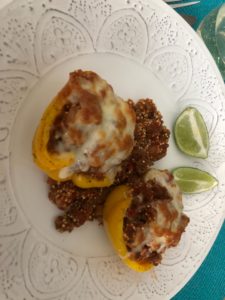 As sent: **
Hackability: ***
I don't know what to think about this dish.  I'm not sure what it is, even.  It seems sort of like pasta sauce or taco filling piled into a half of a bell pepper.  And quinoa is there, like a wide-eyed hipster at a grandparent's boomer potluck.  Also, what is "southwest spice blend?"  One whole area of the country can be categorized by certain spices?
My mother cooked "stuffed peppers," the dreaded meal.  She used to "parboil" the pepper halves (always green) to ensure they would be soft as baby food, yet with skins that had the texture of scotch tape.  Then she stuffed them with what was basically meatloaf mix, designed to harden up into the oven into a meaty baseball.  Her chef-y touch was a dot of ketchup baked onto the top.  For some reason we seemed to require this culinary punishment about once a month.  This Hello Fresh version of stuffed peppers is better than that, luckily.
Tasting: The texture of the filling is like taco meat, and the "southwest" seasoning underscores that taco flavor.  But it is in a bell pepper!  The peppers are baked, then filled with the cooked filling, then baked again, and to be frank, the peppers weren't really cooked through.  But I prefer them crunchy instead of "very soft," as the recipe calls for.  There is more filling than will fit into the peppers, so they say to serve it on the plate with the peppers balanced over it.  But this it is really like eating tacos with any shell or topping, but it is also really bland, and could use some serious heat. There are also limes, but why?
Cooking: The quinoa is first to cook in some stock.  OK, I'm not a huge quinoa fan, and it seems to be that the cooked form is almost indistinguishable from the uncooked, but I guess it is slightly less sand-like.  Then you need to sauté a chopped onion and two chopped scallions before adding the ground beef and breaking it up into the kind of crumbled meat typical of old-fashioned tacos.  Add the south west spices, and then a can of tomato sauce, and let it simmer.  Meanwhile, the bell pepper halves are in the oven roasting for 5-7 minutes.  Once the meat and sauce looks reasonable, stir in the cooked quinoa.  Then spoon this filling into the halved peppers, top with Monterey Jack cheese, and "roast" again for 10 minutes.  It's a pretty quick cook, even with the quinoa step.
Hacking:  This is a rather random assembly of ingredients, sort of like a Chopped basket, and I think hacking could go in many different directions.   But this recipe is really so taco-esque, that it really screams for the flavor of a corn tortilla.
So start with hard or soft corn tortillas.
When making the meat mixture, leave out the chopped scallions, since they are overpowered anyway.  Add 2 cloves of minced garlic, and a little (1/2 teaspoon) of oregano and the same amount of dried chili flakes.
Finely dice one bell pepper, add chopped onion and scallions, some chopped fresh tomato.  Add salt and pepper to taste, then squeeze over the lime.
Make some taco sauce: Put a little more chopped onion into a small saucepan with some olive oil and let the onion soften.  Add 2 cloves of minced garlic, then the can of crushed tomatoes.  Add some ½ teaspoon of chopped chili flakes, a teaspoon of cumin, a teaspoon of chili powder, a half teaspoon of sugar and 2 tablespoons of apple cider vinegar.  Let this simmer, then blitz it in a food processor until smooth.
Serve the meat on the tortilla or in the taco shells, topped with the sauce and chopped vegetables, and the Monterey Jack cheese.  You could also add some other cheese you like, some shredded lettuce, some diced avocado, and any other hot sauce you like.  I would take a taco over a stuffed bell pepper any day.