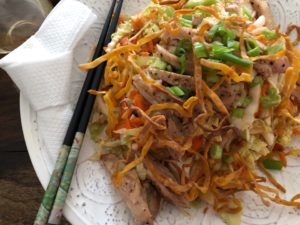 June 19, 2018
As sent: ***
Hackability: *****
It's a chicken salad. It has some Asian flavors. By the way, I lived in China for years, and I never once ate a Chinese chicken salad there. This is an American invention. Not that that is bad. I'm just saying.
Tasting: The base for this salad is two kinds of cabbage, regular cabbage and Napa cabbage. I've never been a huge fan of Napa cabbage, but it is okay here. There are some shredded carrots, which add sweetness, and some scallions added in. These basics hit the notes that we might agree are an Asian inspired salad, especially when combined with a dressing that includes soy, rice vinegar, honey, sesame oil and chili. The dressing is warm, so that helps with the strident greens used here. The chicken is pretty basic—just pan fried with salt and pepper, so it doesn't add much to the flavor combination. The noodles are pretty much a fiasco. They are as tough as wires, shamefully oily, and have little flavor to offer. This salad is really not bad, but doesn't come close to its billing as "insanely delicious."
Cooking: This recipe starts off with the prep, including shredding the cabbages, and grating three, yes three, carrots on a box grater. It went faster than I expected, but still, grating carrots is not really my favorite prep step. There is a shallot and some garlic to be minced, and scallions to be chopped. So there is quite a lot of prep.
Meanwhile, heat the oven to incandescent (450 degrees), and put the wonton noodles on a baking try with olive oil and salt and pepper. Toss the noodles to coat them in oil. These go into the hot oven to bake for 8 minutes, with a big toss half way through. They should end up so hard as to be impenetrable by the human tooth.
Then the chicken gets some salt and pepper, and goes into a hot pan with some olive oil to brown on one side and then the other. Let this rest while you toss the shallot, garlic, and the white parts of the scallions into the same pan, then add soy, honey, vinegar, sesame oil, and some sambal oelek. Then slice the chicken and assemble the dish.
Hacking: This dish is in Chrissy Teigen's book Cravings, so I will let this dish hack itself.
First, for the noodles: in the book, they are deep fried. I think this is the hack for the noodles, because the quick deep fry will turn the wontons crunchy and shatterable, instead of tough and dry.
As for the chicken, Chrissy uses store bought rotisserie chicken in her book. But I think it would be easy to make a quick marinade for the chicken. First, cut the chicken meat into strips, and place them in a bowl. Add 1 tablespoon of vegetable oil, 1 tablespoon of honey, 1 tablespoon of soy sauce, two minced cloves of garlic and a teaspoon of minced ginger. Let this sit for 10-15 minutes, then stir-fry in a hot pan, being careful, because the addition of the honey will cause the chicken to spatter more than usual.
As for the greens, she uses both Napa cabbage and red cabbage, but she also adds in 1 cup of chopped cilantro leaves, and some thinly sliced red onion. Yes, please! Also, feel free to add some toasted nuts, like sliced almonds or even sugared pecans. That would be a delicious addition.
I know that meal kits are in business to make money, so they sometimes try to make do with less than the full complement of ingredients. Not to worry, we can add them back in, and make the memorable dish we really want.