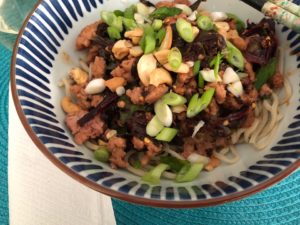 At sent: *****
Hackability: *****
Oh, dan dan mian, how I love you. I loved this dish. I made two portions alone in my apartment and could have eaten it all! I love the umani meat, the ramen, the salty bite of the cashews, and I like a fair bit of chili in my dan dan mian. This dish came together in a snap, and it was really comfort food.
Tasting: I loved the noodles, the pork, the nuts, the heat, the sauce. All of it worked. I didn't love the kale, and I only used half of it, because I didn't want dan dan kale garnished with pork and nuts. To be honest, I think a different green would work better here, but Big Kale has a powerful marketing mechanism, and it is the IT food of now. So we must all eat the kale.
Also, I love cashews, but this dish normally is served with peanuts, but either way, just so there is that salty counterpoint. Now for my guilty secret: I love this dish with the addition of scrambled eggs. They are a wonderful silky counterpoint to the pork, and can even replace the pork if you want a big bowl of vegetarian comfort food. An egg is also a "dan" is Chinese, so I guess this becomes dan dan dan mian.
Cooking: When I do anything requiring boiling water, like cooking these ramen, I boil the water first in an electric kettle, because it is faster. Also, it allows for better timing. Here, I would like to cook the ramen quickly at the end, and I can do it because the water in the kettle stays hot for a while. At the end, I can put a pot over high heat, pour in boiling water, and its ready to go. It's a time saving hack that I use all the time.
This recipe also calls for making a quick chili oil, which is easy (chili flakes with a pour over of ¼ cup of hot oil), but a better chili oil really would enhance the flavor. (A recipe for the China Moon chili oil is below.)
In a mixture of oil and a teaspoon of chili oil, fry the ground pork, breaking it up so it is crumbly. Add some water and shopped kale, and let the kale wilt. Then add their sauce, which comes pre-mixed. (Ingredients are tamari soy, cashew butter, honey, sesame oil, rice vinegar, ginger and garlic.)
Plate over the hot cooked ramen and drizzle with chili oil.
Hacking: This dish is very easily hackable, with different greens, meats, oils and toppings. For example, here is a much tastier chili oil:
China Moon Chili Oil
2/3 cup dried red chili flakes
1/3 cup Chinese fermented black beans (do not rinse them), coarsely chopped
4 large cloves garlic, lightly smashed and peeled
2 tablespoons minced fresh ginger
2 1/2 cups corn or peanut oil
1/3 cup Japanese sesame oil
Heat to a simmer and let it go for about 15 minutes. Keep it low, so it won't burn. This keeps for a long time, and is wonderful drizzled on dishes like this one.
You can use any greens you like, such as bok choy, chard, or even spinach. Toppings can include nuts, chopped spring onions, chopped chili, scrambled eggs. You can use other meats, such as chicken, turkey, or beef, if you don't eat pork.
If you are inspired to make this, but want to make your own sauce, here is a recipe:
2 tablespoons sesame paste
2 tablespoons light soy sauce
2 teaspoons sesame oil
2 tablespoons chili oil
2 teaspoons black vinegar
2 teaspoons sugar
2 tablespoons micro-planed garlic
Mix this together, and taste. You can also add some micro-planned ginger if you like, and a little salt if it seems needed.
If your version is too dry in the pan, add ½ cup chicken broth. This is a comfort dish. It should be delectable.