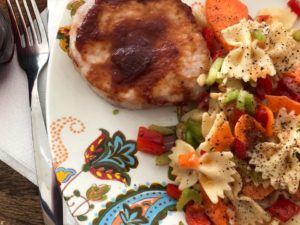 May 25, 2018
As sent: **
Hackability: **
If you really, truly hate to cook, you should probably know about Tovala. It is a company that sells futuristic ovens that are internet connected that you can also control using your phone. It comes with a bar code scanner, and each prepped meal comes with a barcode. Put the meal in the oven, push a button, scan the barcode, then do something else until dinner is magically ready. When you are finished, toss the pan, wash your plate and cutlery, and that's it. The future has arrived.
But it has to taste good, right? The oven is "combi oven," which means that it not only bakes and broils like a regular oven, it also steams. Restaurants use these ovens to keep food moist while it browns. It's pretty genius, although beware, steam can really, really burn. They send you a pot holder with the oven, so that's a hint, right there.
The first meal I tried in a Tovala oven was peach BBG-glazed pork chop, which comes with a chilled pasta salad as a side dish. The focus of the oven is to perfectly cook the meat, and it did, in terms of cooking it through and keeping it moist.
Tasting: The company apparently wants everyone to be happy, so no risks here. The pork was baked, so there were no crispy browned edges. The BBQ-glaze is slightly peach flavored, and they say that there are poblano peppers in it, although there is no discernable heat.
The pasta salad consisted of bow tie pasta mixed with diced red pepper, carrots and celery and tossed with vinaigrette. The portion of salad was huge. How did it taste? Frankly, it tasted like airline food. No highs, no lows, just moderately okay plain food.
Cooking: I admit, I was excited to try this barcode scanning thing. (If you want to cook something that isn't one of their pre-fab dishes, that is, one of your own recipes, you have set up the cooking sequence using a smartphone that you pair with the oven. That alone kind of rocks my world.)
The chop came nestled in a disposable/recyclable pan. Peel back the plastic, then open the small container of glaze and spread it over the meat. Put it in the oven, scan, and the oven beeps when it is ready. The chilled salad came ready-made, except for adding the salad dressing. They also sent hot sauce—ordinary stuff—for those who like it hot. Prep took me about a minute, and cooking took 15:30.
Hacking: These meals are a bit hard to hack, since they are all ready to go out of the box. But I really missed crispiness on the pork chop. I don't think there would be any harm in searing the outside edges of the chop before it goes into the oven in a hot pan with a little olive oil. Also, the instructions don't tell you season the chop before it goes into the oven. Some salt, pepper are required, and any other spices, like garlic powder or herbs, might amp up the flavor.
As for the pasta salad, it is crying out for something fresh to take away the stodginess of the dish. I would add some fresh veggies: cooked and cooled peas or edamame, for example. Some diced fresh red onion would work well. Definitely some parmesan cheese. How about crumbled bacon? Yes, please! Also, mix a ½ teaspoon of Dijon mustard into the vinaigrette for some zing. And don't forget the salt and pepper.
I didn't love it, but I didn't hate it. I could see that these meals could be really handy, and a quick meal is sometimes just what you want, right?