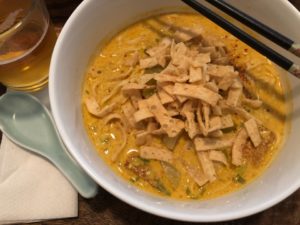 As sent: ***
Hackability: *****
This was pretty darn good, but it could be pretty darn better. If you like laksa or Thai khao soi, you will like this dish.
This was my first dish from Takeout Kit, and it came in a box the size of a large book, without ice since everything in the box was dried or canned, and ingeniously packaged. The protein was canned fried bean curd, which was frankly quite vile. Another can contained pickled mustard greens, which also may be an acquired taste.
I wanted to know what was particularly Burmese about this dish, and a little research showed me that this dish, shan khao swe (ရှမ်းခေါက်ဆွဲ), traditionally is garnished with pickled mustard greens. So I guess if you want the authentic Burmese dish, it is important to make friends with those. They weren't bad, per se, although I really wanted some fresh vegetables instead of canned ones.
Tasting: This dish has that rich, creamy, spicy coconut broth that I associate with laksa. It is wonderful, although this dish is seriously under-seasoned. It's odd to say that, given that the dish is really spicy, but it just wasn't salty enough. I added some fish sauce, and it came to life. I think it also needed brightness—I would suggest fresh lime juice—although maybe that's what the pickled mustard greens were doing there.
Cooking: The yellow curry paste is prepared, and it is mixed with coconut milk and a lot of water, then reduced. The kit comes with freeze dried green onion, shallot and garlic blend, and those come back to life in the hot broth. The fried bean curd comes in little squares about ¼ inch thick, packed into a can. Those are meant to be cut into quarters and added to the broth. I admit, I didn't add very much. Also, the recipe card encourages you to add your own protein. I didn't, but next time, it will be leftover rotisserie chicken, all the way.
Meanwhile, as the broth simmers, you are cooking some egg noodles. Those noodles are the only reason this dish isn't vegan, and you could easily substitute rice vermicelli for the egg noodles.
Just before serving there is a small packet of powdered kaffir lime leaves that go into the broth. Then put the noodles in a bowl, ladle over the broth, and garnish with the pickled mustard greens, some dried chili flakes, and some packaged wonton strips.
Hacking: I like using rice vermicelli in this dish, partly because you can also dispense with the packaged wonton strips, which just went soggy in the broth. Instead, heat ½ inch of oil in a pan, then throw in the dry rice vermicelli, pressing it into the oil, and watch the magic happen. It's fun and adds crunch to the garnish.
This dish needs a fair amount of fish sauce (which the Burmese use in their cuisine, so it's a legit addition) to add saltiness and bring out the flavor. I would also add the chili flakes into the broth as it cooks, presuming that everyone at the table (this served four) likes the same level of heat. Also, serve with lime wedges to squeeze over to add acidity.
The biggest hack here, though, is to add cooked shredded chicken and fresh vegetables to make this a fresher and heartier meal. I would lightly stir fry some bean sprouts, and put those over the noodles before adding the broth. Also, this dish cries out for something green—stir fried bok choy, snow peas, or even spinach would fill the bill.
In terms of value for money, this dish for four cost about $30, so roughly it is $7.50 a serving, without the add-ons I recommend. For something concocted from dried and canned products, it was better than I expected it to be. But at $30, it seems a little pricey.