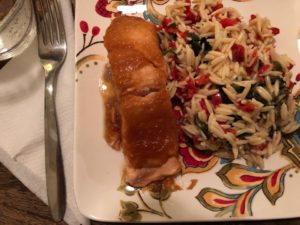 June 20, 2018
As sent: **
Hackability: *
These are Tovala dishes, so as they come, so are they eaten. The Tovala oven is still such a novelty that I get a real kick out using it. But the dishes, like these two, easy as they are, are leaving me a little cold.
Tasting: The primary advantage of using the Tovala oven is that it cooks the protein perfectly. So the orange BBQ-glazed salmon was perfectly cooked, moist and flaky. The BBQ-sauce is really so-so, and I wish it were more orange flavored, but then from the ingredient list it turns out the sauce is made with orange marmalade, so it was probably never going to be that orangy.
The orzo salad, however, is vile. I couldn't eat it. And without the side, this is a really skimpy meal. The salad is chilled, and there is a "lemon garlic vinaigrette" to add, although I really didn't taste very much lemon or garlic. The orzo is mixed with chunks of red pepper, and suspicious ribbons of wilted green guck, which is allegedly kale. The flavor of the salad is predominantly stale red pepper. I kept adding salt and black pepper to try to make it more palatable, but then just gave up.
As for the vegetable & potato chowder, I tried to love it. I really did. It is a creamy, buttery, thick chowder with pieces of potato, onion, carrots, celery and corn in it. They send some oyster crackers that taste okay alone, but that turn into soggy mush the instant they hit the hot soup. But most baffling of all is that they send a parsley garlic vinaigrette to top the soup with. Who thinks putting a vinegar topping on a creamy chowder is a good idea? Anyone?
Cooking: The whole point of the Tovala is to do minimal prep for the meals, so there is not much to do. For the salmon dish, you have to peel back the plastic on the salmon container and spread on the BBQ glaze, then put it in the oven, scan the QR code, and push a button. Meanwhile mix the vinaigrette into the orzo and you're done.
For the chowder, peel the plastic off the container with the chowder, then add in a small amount of chicken broth they send. I don't know why this is a step—it seems just as easy to send the chowder already complete. Then put the chowder in the pan into the oven, scan and back. (Also not sure why we are baking a soup, but it takes over 18 minutes to reheat this way.)
Hacking: I honestly believe that the best way to enjoy both of these meals is too not order them again. Neither are really worth it, in my opinion.
For the salmon, problem 1 is the BBQ sauce. You could swap out a sauce you like better over fish, or perhaps add another tablespoon of orange marmalade to this sauce before you add it, if you have any orange marmalade standing around. A teaspoon of honey might also help, and then sprinkle over some chopped fresh cilantro or parsley when you are ready to eat.
As for the orzo abomination, it requires some freshness. Add some chopped fresh red onion and some chopped parsley or other herbs. Also, some parmesan cheese would help, as well as a squeeze of fresh lemon, and some white pepper. All of this would add a fresh element while possibly toning down the overpowering red peppers.
For the chowder, again, some fresh elements would help. Frankly, I would dispense with the oven for this dish, and heat it in a saucepan over medium heat. Add white pepper, and some frozen peas. Just before serving add a little more cream. Have this with some warm baguette. And as for the parsley vinaigrette, just do yourself a favor and toss it.