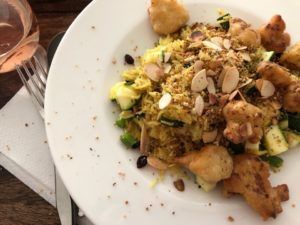 June 18, 2018
As sent: *****
Hackability:***
This dish is just fantastic. Amazing. Incredible. So, so good. It is one of Purple Carrot's TB12 vegan dishes, and if all vegan dishes were like this one, I could be vegan all the time.
Tasting: The rice tastes really good, flavored as it is with ginger, garlic, garam masala and turmeric. The green beans and zucchini are cooked crisp but tender. The currants add a small sweet touch, and the almonds and hemp seeds add crunch. The chutney comes ready-made, and gives a nice counterpoint. The pakoras are okay, nothing too exciting, but taken all together, this dish hits all of the taste-buds, and is also fresh and filling.
Cooking: This recipe does start out with a fair bit of prep. The part I dislike most is mincing garlic and ginger, but then again, ginger is such a magical flavor. You also need to prep the cauliflower, and the green beans and zucchini, that latter two of which need to be in fairly small pieces, since they are really just steamed in the already cooked rice.
The biryani begins with sautéed garlic, ginger and spices. Then add the rice and cook like you would normally cook rice. Be aware, though, that you need a fairly large pan, because the beans and zucchini get added at the end, and the pan needs to accommodate all of that.
The next step involves a quick toasting for the almonds and hemp seeds (whatever those are) in a small pan. These nuts/seeds add quite a lot of richness to the flavor of the dish, so don't skip this step.
The batter for the cauliflower pakoras is made with chickpea flower and water, along with minced garlic, garam masala and salt. It's a quick stir together batter, and then the coated cauliflower pieces go into a skillet with 1.3 cup of oil. The brown on each side, then remove them to a dish with absorbent paper and sprinkle with salt.
When the rice is cooked, the recipe tells you to stir in the beans, zucchini and currents, and let this stand for 2-3 minutes. I covered the pot, to keep some heat in, and left it more like 7-8 minutes, because I really do not like eating raw green beans. They turned out to be perfectly cooked, so don't be afraid of leaving the vegetables with the rice for a little longer than is called for.
Hacking: In my experience, these TB12 meals from Purple Carrot are marvels of engineering. They are so intricately planned that hacking is a little difficult.
The one hack I would suggest is for the batter for the pakoras. Instead of plain water, I would use soda water, and instead of shallow frying the pakoras in a pan, I would deep fry them so the batter would be really crispy. I would also leave the salt out of the batter, and salt the finished pakoras when they are on absorbent paper after they have been fried. Another hack that would work for these pakoras would be to substitute green plantain pieces for the cauliflower.
I also like a little fresh salad with dishes like this, although this dish doesn't really need it. I would chop a tomato and an English cucumber into bite sized pieces. Add some chopped red onion, and even some diced apple. Finish with some minced red or green chili. Add fresh lemon juice and some olive oil, and salt and pepper. This is a salad that I often throw together for curries, especially if I have take-out curry that needs a quick fresh side.