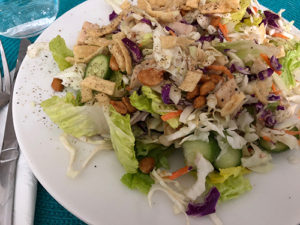 As sent: ***
Hackability: ****
I thought I would try one of these no-cooking-required Home Chef 5-minute lunches to see what they are like.  I can never get it together to take lunch to work with me, and I'm always looking for solutions so that I don't have to eat in a restaurant.  It turns out to be pretty good, if you ask me.
Tasting:  You've had this salad before in countless restaurants.  It is a bed of romaine padded out with some shredded cabbage and some sliced cucumbers.  They send some pre-cooked cubed chicken, some peanuts and some wonton strips, and the Marzetti Asian Sesame Dressing that is ubiquitous with this dish.
It tasted it familiar, if a little tired due to all the packaged ingredients, and the dry slaw.  But the flavor was on a narrow spectrum, with no high notes, and not enough of a salty contrast.  For a no-cook five-minute lunch, it was resoundingly adequate.
Cooking:
This only requires assembly.  The portions are generous.
You could do this in a Mason jar: put in one of the dressing packets (they send two), then add half the romaine, half the cabbage, half of the sliced cucumber (you do have to slice that yourself), and half the peanuts.  Close the Mason jar, and take the wonton strips with you to add once you have shaken the jar and put the salad on a plate to eat at your desk.  Well, I eat at my desk in my soul-destroying cubicle.
I think even I could make time to do this in the morning, and I know I could do it the night before and leave it in the fridge.
Hacking:
First, I think the pre-cut slaw is dry.  I don't think it would be difficult to send a wedge of cabbage, and it wouldn't be too hard to slice it thin or grate it to have a fresher flavor.  They do send a head of romaine that you must cut or shred yourself, so why not the cabbage?
Next, this salad cries out for a sweet element.  I would use red or green grapes cut in half.  Or failing that, some raisins.  Or, even though there are already peanuts in it, some toasted sliced almonds would work well.  Grated carrots would also bring some sweetness.
I think adding some chopped cilantro would also be welcome.  And some fresh slivered green onion, or red onion, if you like that sharper flavor.
As for the dressing, it is a very familiar flavor the way it comes out of the packet.  But you could mix in a teaspoon of Dijon to give it a bit.  Or for that matter, you could mix it with a tablespoon of peanut butter or tahini, a tablespoon of soy sauce, and a tablespoon of water for a peanut version.  If you wanted to, you could add some minced chili to that, and even a ¼ teaspoon of grated ginger for a fresh zing.
This is a good salad, and generous for the price.  I will get it again.